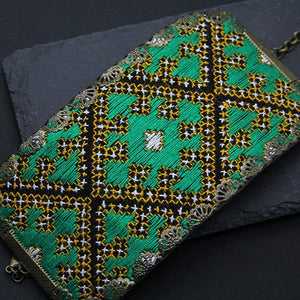 Persian Embroidered Bracelat, Embroidery Jewellery
Discover the captivating allure of our Persian Embroidered Bracelet.
Handcrafted with intricate details and vibrant colors, this bracelet is a wearable work of art that tells a story of tradition and craftsmanship.
Each bracelet showcases traditional Persian motifs, symbolizing love, beauty, and prosperity. Made with high-quality materials, including premium threads and durable metals, it offers both beauty and longevity. With an adjustable clasp, it provides a comfortable fit for any wrist size.
Elevate your style with the timeless elegance of our Persian Embroidered Bracelet today.

Match these beautiful bracelet with outfits of similar color, black or other plain colors and they will add a subtle charm to how you look. It is appropriate for formal ceremonies, casual parties/dates, and office.